Words with a Mime: Bill Bowers performs "Beyond Words" at ASH
   Growing up as a shy, gay child from Montana, Bill Bowers says he knew about silence from early on. When he discovered that there was an art form devoted to being silent, he knew he had found his passion.
   "When I was growing up I had a lot of older brothers and sisters," he said. "Since I was the youngest child they would often speak for me, so I didn't particularly want to talk because I didn't need to."
   Bowers is a student of world-renowned mime Marcel Marceau, and has performed and conducted workshops throughout the U.S, Europe and Asia, in countries such as Macedonia, Romania and the Netherlands.
   During his visit to ASH the week of Apr. 1, Bowers met with students, gave theater workshops and presented his series of sketches, aptly entitled "Beyond Words."
   The performance included numerous segments inspired by the poem "What is a Boy?" that he recovered from his mother's belongings shortly after her death. Throughout the program Bowers acted as a guide, outlining ideas in short talks then acting out the scenes in silence or backed by music and sound effects. The show employs a mixture of music, monologues and mime in Bowers' ongoing investigation of the silence surrounding the enigmatic matters of gender in our culture today.
   The show detailed his life and experiences from boyhood to manhood, growing up in a small town. Bowers used only his hands and expressions to convey powerful emotion to the audience, managing to interweave light, humorous sketches with dark and powerful moments. He shared both personal anecdotes and stories, sensitively telling these tales in graceful silence. Each vignette performed by Bowers served to start a necessary dialogue about sexuality or gender.
   "The word gay didn't exist when I was a kid; we didn't even have a word I could say to define it," he said. "There was just no conversation."
   Bowers grew up in Missoula, Montana. He was the youngest child in his family. As an introverted, gay kid in 1960's rural America, his love of pantomime allowed him to express himself without speaking a word.
   "Montana is big and quiet," he said. "That's where it all began for me as a little kid. I didn't even know I wanted to be an actor yet, but I wanted to find ways to express the expanse of silence."
   Bowers was first introduced to the concept of mime through his childhood idol, Charlie Chaplin. His mother first took him to see a show of Chaplin's when he was seven years old. From then on, Bowers was obsessed with pantomime. He began practicing, and even wrote a book report on the art.
   "I thought [Charlie Chaplin] was hilarious," he said. "And then I learned he and I had the same birthday, and when you're seven years old that's big news. I felt like I had a connection to him."
   Bowers performed twice over the course of his week at ASH. His performances were attended by students of all ages, and while there was music accompanying some of his segments, when Bowers' was quiet, you could hear a pin drop.
About the Contributor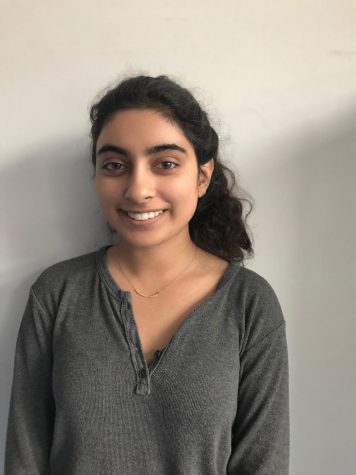 Natasha F., Editor-in-Chief
Natasha is a junior. This is her first year on the Trojan Times.