ASH hosts third TEDx conference with the theme "Molding the Clay"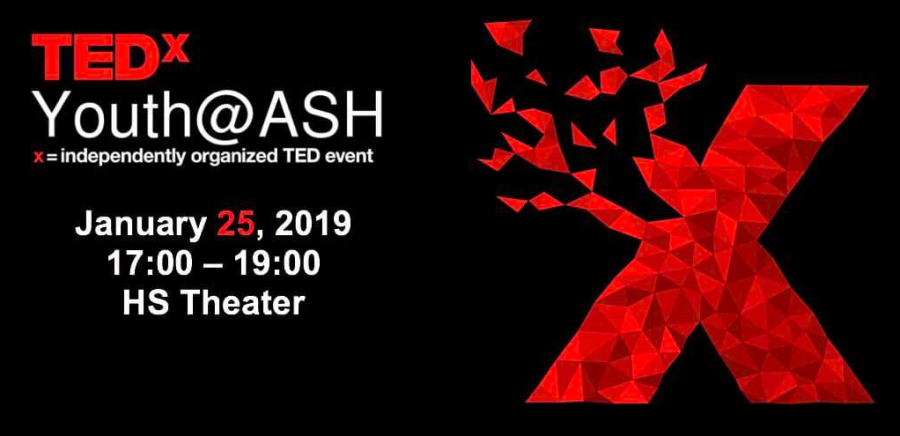 Charlotte Domittner, Sports Editor
March 25, 2019
   On Friday, Jan. 25, ASH hosted the third consecutive TEDx conference. This year, [email protected] was hosted at The American School of The Hague at 17:00. The theme for TedX this year at ASH was "Molding the Clay."
   The "x" in the TEDx indicates an independently organized TED event. TED has created a program called TEDx Youth, which is a local gathering of students speaking and performing to share ideas from around the world. 
There were a total of seven speakers, and two performances: "The Importance of Standing Up for Yourself" by junior Charlotte D., "Environment" by junior Charlotte D., "Global Warming and Adaptation" by junior Robin B., "Who Writes the News?" by senior Nora A., "Misogyny in Hip Hop" by junior Dominik M., "Flaws in the Education System" by junior Thomas V. and "The Tyranny of Perfectionism" by junior Ana V.D.B.
   The two performances were given by junior Maria C., who sang "She Used to Be Mine" from The Waitress, and JAKK, singing "Somebody to Love" by Queen.
   Students speaking at this TEDx youth event had been researching, preparing and rehearsing for over five months, sharing ideas that were not only profound but also relevant to the issues of our modern world. The theme for this years TEDx, "Molding the Clay," set the basis for many of the speakers' topics.
   The conference was organized by junior Fede E.. Fede organized speaker meetings and student helpers, in addition to reviewing and editing speeches. 
Fede was inspired by her older sisters, who organized the first TEDx at ASH, to continue the legacy of the club.
   "This year was ASH's third annual TEDx conference and I have been lucky enough to be able to attend one, participate in one and organize one," Everts said. "After attending my first TEDx in the United States, I completely fell in love."