Motivational speaker Mike Smith visits ASH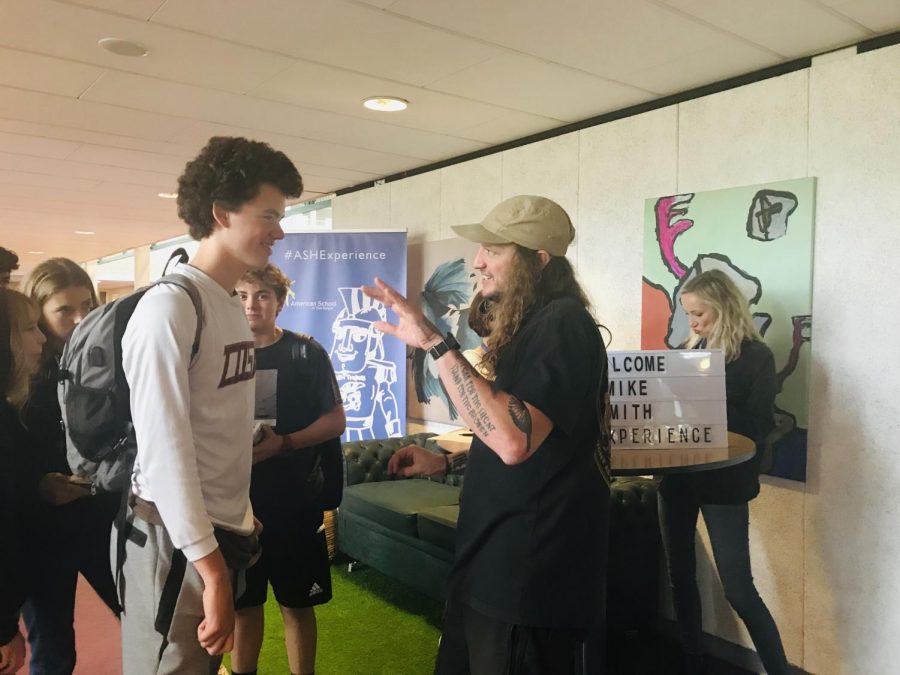 On Sept. 16, the American School of The Hague welcomed the "professional teenager" and motivational speaker, Mike Smith. Mike grew up in the Midwest of the United States in a small town in Nebraska. 
   During his high school career Mike, like many of us, did not have the slightest idea what he wanted to do with the rest of his life. Maybe this is what kept ASH's high school in captivated in his story for the hour. 
   He knew by the end of his senior year that whatever it was he wanted to help people. He was moved by the idea that "helping people happens when no one else is looking". He now is a founder of numerous non-profit organizations and has traveled to 49 of 50 of the United States speaking to and influencing students like us. 
   Luckily we got the chance to sit down with Mike later and found out that he started speaking to high schools by looking up principal's emails on the internet and sent sample DVDs. We talked about how can high school students possibly find their way and forge the path into doing what we want to do. 
   "So much of what you want to do is important, like what you want to do with your life is important and what everyone here wants to do with their life is important but in reality you guys are going to change jobs and careers a ton because that's just the way it works today," Mike said.
   "The one [career] forever isn't actually the true narrative anymore but the one thing you take with you is what kind of a person you are. If you're a good, accepting, loving, tolerant, compassionate, driven human wherever you go you're going to be fine because those skills translate whether you are an artist or an author or an architect or an engineer. Those skills go with you," he said.
   "Chasing what you love is such a big thing but being a great human while you chase what you love. That's the part that I think people aren't hearing enough. Being an amazing person along the way and you'll make an even bigger impact and that's what I hope people really get from today," he said.
   "I think a lot of young people are like 'I want to travel for a living'. If you want to travel for a living, you have to have a skill worth paying for to get you to travel for a living. Whether that photography, building something, speaking, entertaining, whatever it is. A lot of young people have the I want to travel part dialed now they got to do the what's my skill that's going to put me on the road," he said/
   Mike spoke a lot about following our dreams and listening to the voice inside our head, but how can we make that jump? 
   "There is no one size fits all for how we get there… For some people going to university is going to be the most important season of your life because you are going to figure out what you hate and what you love and who you don't want to be around and the kind of people do want to be around and you learn a lot about yourself in those years," he said.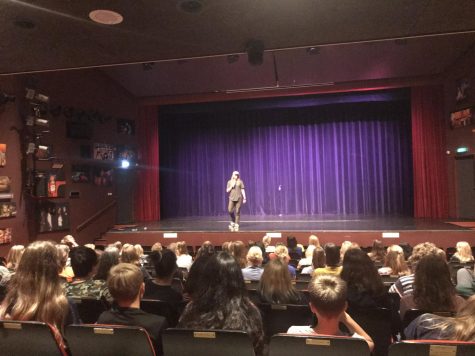 "At some point, you have to learn to be the loudest voice in your head. I think for a lot of people the loudest voice in their head is somebody else, like a parent saying no or a person at the school who said something hurtful to you or the crowd you're scared of judging you," he said.
   "A good gauge to know if you are the loudest voice in your head is if when you shower it's like 5% washing, 5% singing and 90% winning fake arguments with people you don't like, then you are not the loudest voice in your head. For a lot of us, there's somebody else in our head who is taking us space and they're taking up time and they're taking up energy. The result of that is we act accordingly," he said.