High school play Almost, Maine explores love, hope and loss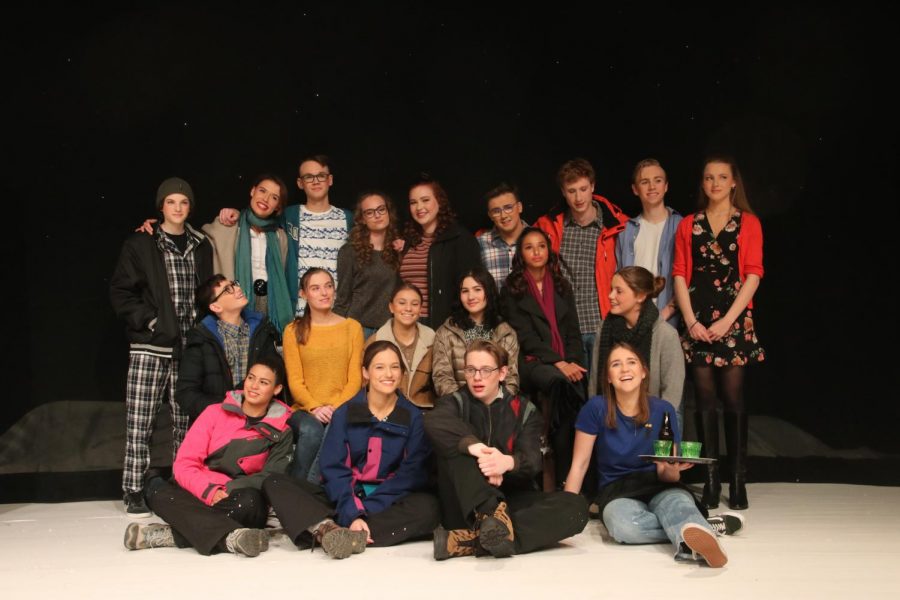 On Apr. 12 and Apr. 13, ASH's high school production of Almost, Maine was performed. It starred, in order of scenes: Martina R., Ecem A., Assaf O., Ulachi E., Kasper A., Svea B., Caity E., Feodor R., Fleur P., Jackson B., Afra A., Quinn L., Sidney T., Ben M., Vere V., Gur B., Phoebe T., Caleb T. and Noor E.
   The production was directed by senior Madeline O. Madeline has acted in more than 20 shows since she was five years old. She has an incredible passion for the performing arts.
   "What I realized doing Almost, Maine was just how much I love being in the theater world," she said. "I will try the hardest I can in my adult life to do anything in theater, just because I love it so much."
   Madeline says directing a play is an experience she has always wanted to try.
   "I really felt like I could not let the opportunity slide," she said.
   Almost, Maine by John Cariani takes place in northern Maine. It is set in an almost-town; the paperwork to register it officially was never completed. The play follows the story of nine couples, each with their own struggles. It is quite an unorthodox play as there is no storyline. The order of the scenes is not in chronological order; every scene takes place simultaneously. It is also uncommon to see more than only two people on stage at the same time.
   Although it is a work of fiction, Almost, Maine explores themes relevant to every audience member, such as love, hope, and loss. It touches on both the exquisite joy of young love and the sorrow of not being able to salvage a long-standing relationship. The realism allowed both the actors and the audience to find something in the show that resonated with them.
   "I was seeing the characters, but I could also see so many things that [the actors] brought to the characters from their own lives," Madeline said.
   Taking part in this production was a very memorable experience for the actors as well.
   "I learned how to really connect with my scene partner," Afra said. "I had a really fun time working with all of the cast and I love everyone dearly. I'm really proud of the show as a whole."
About the Contributor
Ecem A., Head of Social Media
Ecem is a junior. This is her third year on the Trojan Times.