Sustainability Week brings vegan activist to ASH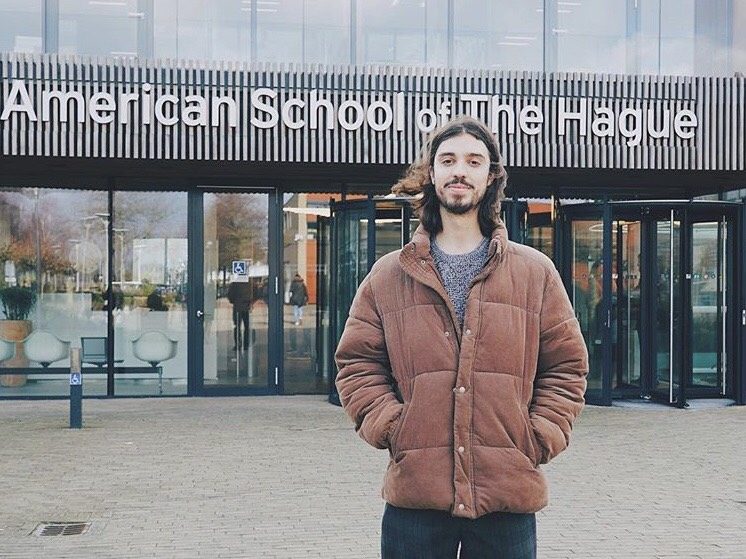 This year was a progressive year for student sustainability in the American School of the Hague. The Sustain ASH Club was reinstated after four years of inactivity and is now co-lead by Tom and Tamira. Tamira claims she was inspired by the issues of environmental cost and damage she learned in her EVS classes to restart Sustain ASH.
   "The biggest reason [that Sustain ASH was restarted] was hearing about the plastic at ASH not being recycled, and that the majority of our plastic cannot be recycled by Avalex, the company," Tamira said. "We wanted to see what we can do as a school to be more sustainable and recycle that plastic. Another reason was learning about the environmental cost and damage in my EVS classes. I wanted to help as much as we could as a school."
   This year, Sustainability Week at ASH perfectly overlapped with the Dutch government's campaign, Week Zonder Vlees or Week Without Meat. It took place from Mar. 10 to Mar. 14. Fortunately, many people participated.
One person who took part was vegan YouTuber and activist, Earthling Ed. Earthling Ed came and spoke in Environmental Systems classes on Monday and Tuesday. During lunch on Tuesday, students were also invited to watch him debate against seniors Ben and Kasper in the theater on the subject of "Are People who Eat Meat Serious about Climate Change?"
"When I first went vegan, I did a lot of research. There are a lot of vegan activists out there that are very up-front and aggressive," Tamira said. "Earthling Ed wasn't, he was a great speaker and he actually convinced me to become vegan. He is also very knowledgeable about the climate, and a considerate speaker.
For Sustainability Week there were topics and activities planned each day. Every morning there was an insightful and playful videos in the bulletin about how to reduce waste at home. During lunch every day, the Sustain ASH team could be found handing out free samples of vegan products for students to taste.
About the Contributors
Ecem A., Head of Social Media
Ecem is a junior. This is her third year on the Trojan Times.